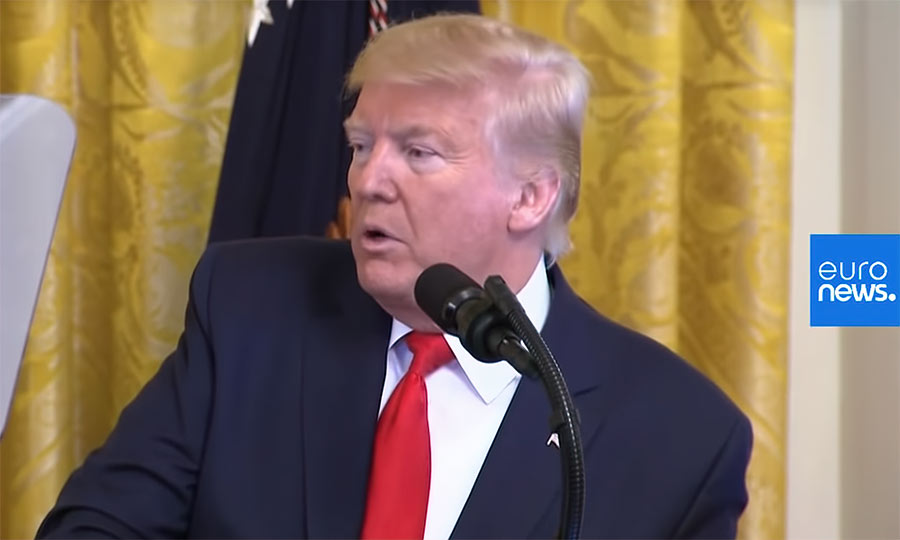 Dead Before It Was Born
– By Cliff Keller –
Rajab Abu Siriya, a writer for the Arabic language newspaper Al Ayyam based in Ramallah, Israel, did not think much of President Trump's recent "Deal of the Century." In an article for Al Ayyam entitled The Enemy's Deal, Siriya called the plan, unveiled in a White House press conference on January 28, 2020, "a biased, one-sided view of the conflict that does justice to the oppressor while ignoring the oppressed…
"The bottom line is that this deal is nothing more than an American decoy meant to trick the Palestinian leadership. If they accept it, the Palestinians lose their right for self-determination. If they turn it down, they will be accused of derailing the peace process."
Calls for violence
At least Siriya appeared to have withheld his condemnation until after the plan's release. That was not the case with Palestinian Authority "leader" Mahmoud Abbas who, in an interview with an Army Radio's Arab Affairs correspondent in Ramallah, pronounced the plan "dead" in November of 2019, over two months before it was released.
"We said all along that the deal of the century had no basis in reality," Abbas said during the interview. "…The Americans have no right to contradict decisions made by international bodies."
Abbas eventually learned later that Trump's plan calls for two separate states whose proposed borders would be drawn up by a committee and serve as a basis for negotiation. The plan also calls for a four-year freeze on Israeli settlement expansion, names Jerusalem as Israel's capital, and locates a future Palestinian capital in East Jerusalem. The plan reportedly also contains many substantial economic incentives to be phased in as peace progresses. Yet no one expected Abbas to reconsider his words after learning further details. And he did not.
Despite his refusal to discuss the plan, his labeling Trump as a "son of a dog" and his calling for "escalated resistance," that is terror bombings, stabbings and mayhem, US Democratic presidential candidates Bernie Sanders and Elizabeth Warren immediately align themselves with Abbas.
Sanders tagged Trump's proposal "unacceptable," labeled Israel an occupier and claimed the plan would only perpetuate the conflict. Warren called the plan a sham and a rubber stamp for annexation.
Not to be outdone by the Americans, Iran's Supreme Leader Ali Khamenei vowed in February that Tehran would fund Palestinian terror groups to the best of its ability. But not everyone failed to find value in Trump's effort.
"We were like dreamers"
Caroline Glick, chief columnist for The Jerusalem Post and adjunct senior fellow for Middle Eastern Affairs at the Center for Security Policy in Washington, DC, moved to Israel in 1991and served as an IDF officer for five and a half years. As an IDF captain, Glick served in the Defense Ministry as a member of Israel's negotiating team with the Palestinians.
"From 1994 through 1996 as a captain in the IDF, I served as a member of Israel's negotiating team with the PLO," Glick wrote in a recent column at carolineglick.com. "Those years were the heyday of the so-called peace process. As the coordinator of negotiations on civil affairs for the Coordinator of Government Activities in Judea, Samaria and Gaza, I participated in all of the negotiating sessions with the Palestinians that led to a half a dozen or so of agreements, including the Interim or Oslo B agreement from September 28, 1995, which transferred civil and military authorities in Judea and Samaria to the PLO.
"Throughout the period of my work, I never found any reason to believe the peace process I was a part of would lead to peace. The same Palestinian leaders who joked with us in fancy meeting rooms in Cairo and Taba breached every commitment they made to Israel the minute the sessions ended.
"Beginning with the PLO's failure to amend its covenant that called for Israel's destruction in nearly every paragraph; through their refusal to abide by the limits they had accepted on the number of weapons and security forces they were permitted to field in the areas under their security control; their continuous breaches of zoning and building laws and regulations; to their constant Nazi-like anti-Semitic propaganda and incitement and solicitation of terrorism against Israel – it was self-evident they were negotiating in bad faith. They didn't want peace with Israel. They were using the peace process to literally take Israel apart piece by piece…
"On Tuesday, this state of affairs ended," Glick wrote.
After US Ambassador David Friedman briefed Glick that, according to the Trump plan, Palestinians must agree to recognize Israel as the nation state of the Jewish people, accept Israeli control over the airspace and the electromagnetic spectrum, agree to a demilitarized state and accept that there will be no Palestinian immigration to Israel from abroad, agree to Israeli sovereignty over the border with Jordan, disarm Hamas and demilitarize Gaza.
"As I listened to [Freidman's] briefing," Glick wrote, "…I didn't feel like I was alone. There with me were fifty generations of Jews in every corner of the globe mouthing the Psalmist's verses, 'And the nations of the world will say, God has greatly blessed them; God has greatly blessed us, we were like dreamers.'
"…[A]s I sat there listening, I felt 27 years of worry and frustration washing away. The 27-year Oslo nightmare was over. The blood libel that blamed Israel for the Palestinians' war against it was rejected by the greatest nation in the world, finally.
It would be incorrect to interpret Glick's immense relief and her appreciation of US support as hopefulness for a negotiated settlement. Arab leaders are notorious for "clutching defeat from the jaws of victory," if one makes the mistake of interpreting an Arab victory as the establishment of regional peace. But Abbas, Khomeini, Hamas and Israel's many other enemies are, in their own minds, completely victorious, for nothing is more fulfilling and profitable for these men and organizations than the ongoing war between Muslims and Jews.
"…[Trump's] offer was dead before it was even born," wrote Al Ayyam's Siriya. And though the US president's unflagging support for Israel remains profoundly appreciated, Siriya, sadly, is correct.